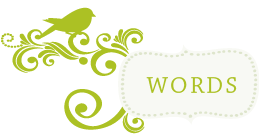 Proverbs 4:23

23 Above all else, guard your heart,

for it is the wellspring of life.

25 Let your eyes look straight ahead,

fix your gaze directly before you.

26 Make level [b] paths for your feet

and take only ways that are firm.

27 Do not swerve to the right or the left;

keep your foot from evil. (NIV)

My version (applied to MY LIFE):

Above everything, guard your heart–for it affects everything you do.  Watch your emotions.  Don't let them get the best of you.   Don't get sidetracked from your goal or entertain negative thoughts that tear you down.  Look straight ahead and focus on what lies before you.  Mark out a straight path for your feet–then stick to the plan!  Stay safe.
Matthew 12:34

34 … For whatever is in your heart determines what you say.  (NLT)

34 … For the mouth speaks what the heart is full of. (NIV)

34 … for out of the abundance of the heart the mouth speaketh. (KJV)
Proverbs 15:4

4 Gentle words are a tree of life;

a deceitful tongue crushes the spirit. (NLT)
Proverbs 18:21

21 The tongue can bring death or life;

those who love to talk will reap the consequences. (NLT)
James 3:5-6

5 Likewise, the tongue is a small part of the body, but it makes great boasts. Consider what a great forest is set on fire by a small spark. 6 The tongue also is a fire, a world of evil among the parts of the body. It corrupts the whole body, sets the whole course of one's life on fire, and is itself set on fire by hell. (NIV)
Proverbs 4: 20-22

20 My child, pay attention to what I say.

Listen carefully to my words.

21 Don't lose sight of them.

Let them penetrate deep into your heart,

22 for they bring life to those who find them,

and healing to their whole body. (NLT)
Isaiah 55:8-11

8For My thoughts are not your thoughts, neither are your ways My ways, says the Lord.

9For as the heavens are higher than the earth, so are My ways higher than your ways and My thoughts than your thoughts.

10For as the rain and snow come down from the heavens, and return not there again, but water the earth and make it bring forth and sprout, that it may give seed to the sower and bread to the eater,(A)

11So shall My word be that goes forth out of My mouth: it shall not return to Me void [without producing any effect, useless], but it shall accomplish that which I please and purpose, and it shall prosper in the thing for which I sent it. (Amplified Bible)
Deuteronomy 6:5-9

5 Love God, your God, with your whole heart: love him with all that's in you, love him with all you've got!

6-9 Write these commandments that I've given you today on your hearts. Get them inside of you and then get them inside your children. Talk about them wherever you are, sitting at home or walking in the street; talk about them from the time you get up in the morning to when you fall into bed at night. Tie them on your hands and foreheads as a reminder; inscribe them on the doorposts of your homes and on your city gates.  (The Message)
Ephesians 4:29

29 Do not let any unwholesome talk come out of your mouths, but only what is helpful for building others up according to their needs, that it may benefit those who listen. (NIV)