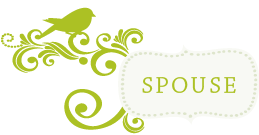 2 Chronicles 7:14

14 if my people, who are called by my name, will humble themselves and pray and seek my face and turn from their wicked ways, then I will hear from heaven, and I will forgive their sin and will heal their land. (NIV)

My version (applied to OUR LIVES):

If my people, that's my husband and I, who call ourselves Christians, would humble yourself and recognize you have a problem, and talk to me about it.  Go ahead ask for help.  And if you take a step in the right direction instead of following down the same old path that leads to destruction.  If you would do these three things, then I will hear you.  I will forgive you.  I will heal you.
Isaiah 61:1-7

My version (applied to MY SPOUSE):

God you have come to give us Good News.  Bind up ____'s broken heart and proclaim freedom to him.  Release him from darkness and set this captive free.  Break the chains off this prisoner and proclaim the year of the Lord's favor.  Take vengeance on those who oppose ___ and comfort him when he mourns.  Provide for him in his grief.  Bestow on ___ a crown of beauty instead of ashes, the oil of gladness instead of mourning, the garment of praise instead of a spirit of despair.  Let ___ be called a strong oak of righteousness (of doing what is right in your eyes), a planting of the Lord for the display of your splendor.  Rebuild the ancient ruins (those things from his past).  Restore and Renew those places long devastated for generations.  Instead of ___'s shame, give him a double portion.  Instead of disgrace, let ___ rejoice in his inheritance.  And let everlasting joy be his.  And all those who seek him will know that God has blessed him.
Psalm 19:12-13

12 But who can discern their own errors?

Forgive my hidden faults.

13 Keep your servant also from willful sins;

may they not rule over me.

Then I will be blameless,

innocent of great transgression. (NIV)

My version (applied to MY SPOUSE):

Who can discern his errors?  Help ___ to see his.  Forgive his hidden faults.  Keep your servant ___ also from willful sins.  May they not rule over him.  Then he will be blameless, innocent of great transgression.
Psalm 19:14

My version (applied to MY SPOUSE):

May the words of ___'s mouth and the thoughts in ___'s heart and mind be pleasing in your sight, O Lord, ___'s rock and ___'s redeemer.
1 Corinthians 10:13

13 No temptation[a] has overtaken you except what is common to mankind. And God is faithful; he will not let you be tempted[b] beyond what you can bear. But when you are tempted,[c] he will also provide a way out so that you can endure it. (NIV)

My version (applied to MY SPOUSE):

No temptation has seized ___ that isn't common to every other man.  You can count on God.  He won't let ___ be pushed past his limit of what he can handle.  But when ___ is tempted, God will provide a way for ___ to escape so that ___ can stand up and get out fast!
Isaiah 43:18-19

My version (applied to MY SPOUSE):

Forget what's happened in the past.  Do not dwell on it.  I'm working on something completely new.  Can't you see it?  There is evidence of it all around you.  It keeps popping up.  I'm making a way around the obstacles that are keeping ___ from making progress.  I'm doing what you thought  was impossible.  I'm providing a way for ___ to find fulfillment in the midst of his crisis.
Proverbs 14:27

27 Fear of the Lord is a life-giving fountain;

it offers escape from the snares of death. (NLT)

My version (applied to MY SPOUSE):

Fear God.  Turn ___ away from sin and the traps it sets for him.  Lead ___ away from death and toward life.  Keep him from getting old with regret.
1 John 1:9

9 But if we confess our sins to him, he is faithful and just to forgive us our sins and to cleanse us from all wickedness.  (NIV)

My version (applied to MY SPOUSE):

Help ___ to confess his sins to you and not hide it or pretend it's not there.  God, you are trustworthy.  When we are honest with you and ask for help, you always give us what we need.  You clean us up and the mess we've made.  You give us another chance to succeed.  You set us on the right path–a path leading to right living.
Psalm 101:2-4

2 I will be careful to live a blameless life—

when will you come to help me?

I will lead a life of integrity

in my own home.

3 I will refuse to look at

anything vile and vulgar.

I hate all who deal crookedly;

I will have nothing to do with them.

4 I will reject perverse ideas

and stay away from every evil. (NLT)

My version (applied to MY SPOUSE):

Let ___ walk in his house without guilt; before his family with a clean conscience.  Help ___ to keep his eyes from focusing on anything perverse, sinful or that which would cause future shame or embarrassment. Help ___ to hate the deeds of unfaithful men.  Don't let their actions influence to evil.  Help ___ to stay far away from ungodly men and have nothing to do with their sinful behavior.
Psalm 56:3-9

3 But when I am afraid,

I will put my trust in you.

4 I praise God for what he has promised.

I trust in God, so why should I be afraid?

What can mere mortals do to me?

5 They are always twisting what I say;

they spend their days plotting to harm me.

6 They come together to spy on me—

watching my every step, eager to kill me.

7 Don't let them get away with their wickedness;

in your anger, O God, bring them down. (NLT)

8 You keep track of all my sorrows.[a]

You have collected all my tears in your bottle.

You have recorded each one in your book.

9 My enemies will retreat when I call to you for help.

This I know: God is on my side! (NLT)

My version (applied to MY SPOUSE):

When ___'s afraid, help him to trust you.  Who cares what others think or do.  All day long they twist his words to say things he never meant to say.  They plot and plan ways to trip him up, to hurt him.  They watch every move he makes eager to see him fail.  Do not let them get away with it!  Go get them God!  Record his prayers.  Make a list of his tears so that you do not forget what they have done to him and how much sorrow it has caused.  Then they will turn back.  He will call to you for help.  Everyone will see whose side God is on.