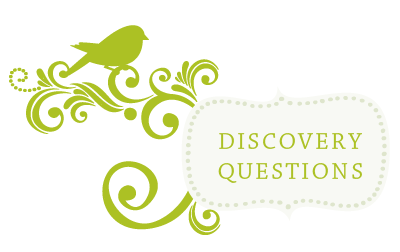 Questions are meant to evoke different responses from different people. How we answer a question reveals something about us.

It reveals our Personality  [Those unique, individual, one-of-a-kind qualities that make up who we are.]

It reveals our Perspective  [How we view our world?]

It reveals our Priorities  [What is important to us?]
Questions help us clarify what we believe. It gets our thoughts out of our head and into the open for discussion and reflection. Throughout the Bible God speaks to his children by asking them questions. In this way he gets to the root of our problem. Questions uncover what we really believe. It exposes our thoughts and our MOTIVES. The questions are penetrating. They are designed to make the person think hard and reflect on their answer. They are challenged to look deep within their hearts. We too can benefit by looking at some of the questions God poses in the Bible.
Hebrews 4:12-13 says,
"For the Word of God is LIVING and ACTIVE. Sharper than any double-edged sword, it PENETRATES even to dividing soul and spirit, joints and marrow; it JUDGES the THOUGHTS and ATTITUDES of the heart. Nothing in all creation is HIDDEN from God's sight. Everything is UNCOVERED and LAID BARE before the eyes of Him to whom we must give an account."
So…
Does God still speak today? I believe he does. He speaks in those quiet moments of our day when we remove the distractions and take time to listen to his voice.
Recently he spoke to me about something I had been praying for for a long time. He finally asked me one day,
"How Bad Do You Want It?"

"What Are You Willing to Give Up in order to Get It?"
I knew God had pegged me! I was all talk, but no action. I kept asking for what I wanted in prayer, but I didn't do anything different in order to see different results in my life. I was just being lazy. God called my bluff . . . and I knew it.
What about you?
Do you want to get well? And if you do, How bad do you want it?
Here are some questions I found in the Bible during a time of study.  Read through the list and see if God could be asking you a similar question.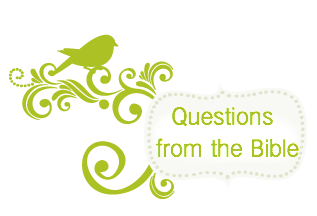 Apply to your life …
1) Hagar Runs Away
Hagar runs away because she was being mistreated by her mistress Sarai, Abraham's wife, who was jealous of her getting pregnant again.
Genesis 16:8 "And he said, 'Hagar, servant of Sarai, Where have you come from, and where are you going?"
Q:  Where have you come from?
STOP–and think about what you are leaving behind.  Is this your best option or is there a better way?!  Is where you are going better than what you are leaving behind?  Are you sure?
Q:  Where are you going?
You can't just run away from your problems!  Have you thought about what you're doing — where you will stay?  What will you do?  If you don't have a plan or goal in mind — then you are just running around in circles.  You are tiring yourself out, but not getting anywhere.  It's exhausting!
Go back … and submit to her.  I will increase [bless] you. (Gen. 16:9-10)  For the Lord has heard your misery.
Your son Ishmael "will be a wild donkey of a man; his hand will be against everyone…he will live in hostility." (vs. 12)  In other words, he will be rebellious, not submit to authority, be impulsive.
Hagar reflected on what God had said.
(Gen. 16:13)  "You are the God WHO SEES ME."  In other words, I can't hide anything from you.  You know my thoughts, my motives, my FEARS.  No one really sees what is going on inside of me except for you, God.  No one knows what I have endured and put up with but you.  You know how messed up I really am.  [How you described my son, is how I really am.]
You are the God who sees me.
2) Healing at the Pool at Bethesda
There was a great number of disabled, blind, lame, paralyzed that lie at the pool.  There was an invalid that had been there for 38 years!
(John 5:6)  "When Jesus say him lying there and learned that he had been in this condition for a LONG TIME, he asked him, Do you want to get well?"
"Sir, I have NO ONE TO HELP ME into the pool when the water is stirred.  While I am trying to get in SOMEONE ELSE goes down ahead of me."
Made Excuses.
Blamed others.
And Jesus said, "GET UP!  PICK UP your mat and WALK."
 Q:  Do you want to get well?
Jesus gets to the root of our problem.  We need to stop making excuses and/or blaming others for why we are the way we are.  We need to be honest with ourselves about our willingness to change.
God's Formula for Change:
Get up.  (Make the choice to change!)
Forget the Past (mat).
Walk (forward).  One step at a time.
Get up!
It is our choice whether or not to Get Up.  Jesus can forgive us and give us the keys to unlock our prison cell.  But we have to make the choice to walk out from behind the prison walls.  The door is open.
 Pick up your mat.
What did that mat symbolize?  It was a painful reminder of all that had gone wrong.
What does that mat represent for you?

your past
your experiences
your failures
the loss of a dream
your pain and sorrow
the people who made fun of you (or criticized you)
the people who told you, "You will never change."
Walk
Take action.  You can't walk sitting down.  It is a simple, yet profound process.  Put one foot in front of the other.  Just keep moving forward.